Pastor Winkler and Laura were married in December of 1993 and have eight children, Sarah, Bradley, Matthew, Noah, Ricky, Jonathan, Timothy, and Abigail. Currently, they reside in Ocean Acres in Manahawkin, New Jersey. Answering the call of God, their desire is to start a Bible believing, Bible preaching church in the town of Manahawkin.

They would like to formally invite you to attend Anchor Baptist Church in the fall of 2013.
Pastor Winkler
Pastor Winkler was born and raised in Maplewood, New Jersey. He attended Kean University in Union, New Jersey where he earned a B.S. in Business Management. While attending college, he met his bride to be,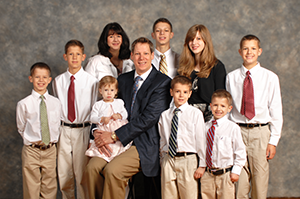 Laura. He became employed as an Account Executive at Wausau Insurance Company after college. Pastor has been employed in the commercial insurance industry for over 25 years. Since being saved in 1993, his heart has always been in ministry.
Laura Winkler
Laura was born and raised in West Orange, New Jersey. She attended Kean University where she earned a B.A. in Special Education. She became a special education teacher working with children with Autism. During her education, she completed course work in sign language and completed additional training at New England Baptist College and Ocean County Baptist Church. Laura also taught in the Education Department at New England Baptist College. She has been ministering at Ocean County Baptist Church as an interpreter for the deaf.
God's Calling
It was in the summer of 1993 that Pastor Winkler and his wife accepted the Lord Jesus Christ as their personal Saviour. Pastor Winkler and Laura were raised Catholic and they accepted Christ as their Saviour while attending a Bible study. Immediately God burdened their hearts for lost souls, and they began to share the gospel.
After 13 years of Christian service in the local church, God led them to Faith Baptist Church in Sparta, New Jersey, under the Pastorate of Brian Phalon. While they continued to serve in their local church, Pastor Winkler began teaching the youth group. God really started speaking to his heart. Teaching from a West Coast Baptist Curriculum, called Discover your Destiny, he was preaching to the teens about God's calling on their lives.
In February 2010, New England Baptist College came to visit, and Dr. Blaser preached a message about Bible college and surrendering to full time ministry. At the alter call, Pastor Winkler raised his hand in commitment to serving God. They prayed about their decision and committed to completing a Masters Degree in Pastoral Theology at New England Baptist College.
Why Manahawkin?
In October of 2011, they had a storm come through that shook the Northeast. They lost power in their home for several days and with no power and no money they decided to seek shelter in Manahawkin, New Jersey at the home of Pastor's Parents.
Arriving in the evening on October 31, the streets were dark but the gas lit lamps that line the streets of Ocean Acres were lit for the hundreds of children and families trick-or-treating for Halloween. They had never seen so many children and families. God had convicted their heart to plant a Baptist Church in that area. They believe they have been called to Manahawkin for the salvation of the lost and for the believers who need revival in their lives, now.
Ministry Training
Pastor Winkler graduated Summa Cum Laude in December of 2011, with a Master of Ministries in Pastoral Administration from New England Baptist College. Additionally, Pastor taught Bible at Central Christian Academy. NEBC is a ministry of Central Baptist Church pastored by Dr. Jim Townsley. Pastor Townsley was a church planter himself when he started Central Baptist Church over 36 years ago.
Our Desire
Pastor Winkler and his family desire to see many people saved. Through traditional methods of Bible preaching and soul winning, they hope to disciple new believers and see families serve God in the local church.